March 3, 2019 by: Pam Matthews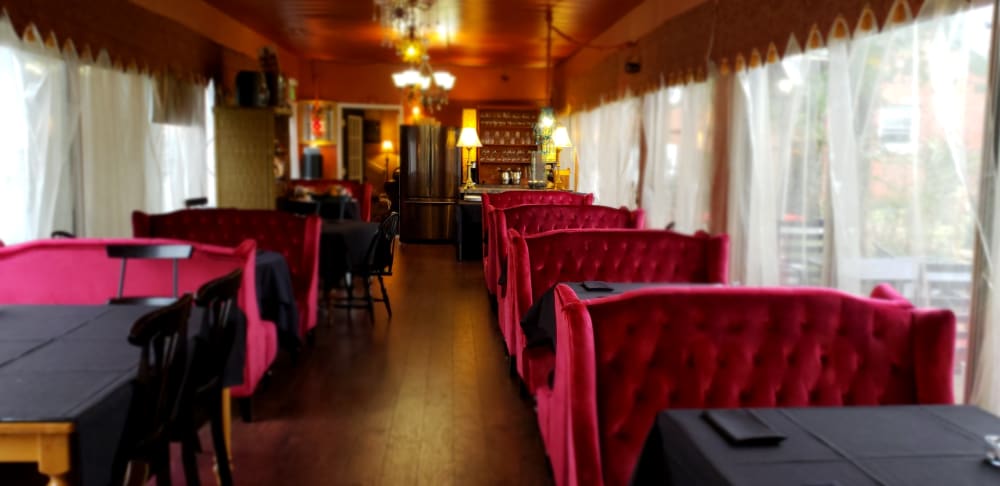 What's New at Montgomery Inn BnB?
We have been scurrying this winter to give this old girl a new petticoat. Deep cleaning, painting, polishing, replacing old furniture with new "period" pieces, it is really starting to shine.
Above you are seeing the brand new velvet seating in the Club Car Dining Room. The new plank flooring seems to glow. We also have a beautiful Victorian Sofa in burgundy velvet and a coordinating chair in emerald green velvet in the Music Parlor.
The old leather sofa in the Media Room was replaced with a new one , equally inviting and comfy but in much better shape.
We have two housekeeping teams working on deep cleaning from tip to stern and it is amazing what a good scrub, tightening up, changing out, and a new coat of paint can do. We are anxious for the good weather so we can hit the exterior too.
The Victorian Suite bathroom is getting a lift, there are still special touches to be added to the French, our Ace handyman has replaced the closet door and installed the missing crown molding in the Tuscan as well as tidying up the caulk and paint in there.
Our new Comphy Brand Sheets are the bomb and available for you to order for your home. The Turkish Towel Company has supplied us with amazing thirsty towels.
There is a brand new staff. Breakfast attendants, room attendants, maintenance men and overall common area housekeepers. Lots of helpers and smaller workload allows them to focus and really do a great job.
We have moved the cats to private quarters. Though many enjoy them, the shedding and the allergy issue is just too much. We value the cleanliness and the comfort of all our guests.
We are reworking our breakfast service this year too. We are proudly serving Community Coffee (Think New Orleans Cafe du Monde). We will ask you to choose a seating time when you arrive, 8:30-9:30 or 9:30-10:30. We will be serving a plated hot breakfast each morning, but in lieu of the full buffet, we have instead a Yogurt & Oatmeal Bar with lots of fixins and a variety of toaster breads for helping yourself. If you prefer the servers will get that for you too. This is to restore the tranquility at breakfast during the busy seasons. This new method will apply when we have greater than 5 rooms occupied. Our servers will relay the morning's menu and bring any special need to the chef.
It's already flowing better this year and we thank you for your helpful comments. We are listening, applying what we learn and we want this to be your favorite getaway.
You may notice the Winter Sale rates too. Still in effect until April when high season kicks in. We're hoping you'll take advantage and come see for yourself how great our improvements are!