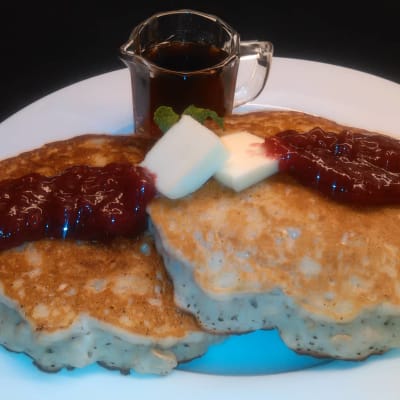 Breakfast
"Only dull people are brilliant at breakfast." ― Oscar Wilde
This year we extended our breakfast service during high occupancy to 8:30-10:30am. It was a great success, allowing for less commotion and that calm relaxing B&B breakfast experience you've come to expect.
You're here to relax and we respect that. If your plans require an earlier breakfast just let us know in advance. When we have five rooms or more we will set up our Oatmeal and Yogurt with Fixin's Bar and our Bread Basket items for toasting. This will serve as a grab & go breakfast if needed too. **Coffee will still be free-flowing for everyone.
Feel free to fix your coffee and teas the way you like it. There is also juice, and ice water. We will serve you a hot breakfast. Be sure to let us know at check in any food issues so we can plan accordingly.
Help yourself to the Oatmeal & Yogurt Bar while you're waiting for your fresh hot entree to be prepared.
"Only dull people are brilliant at breakfast." ― Oscar Wilde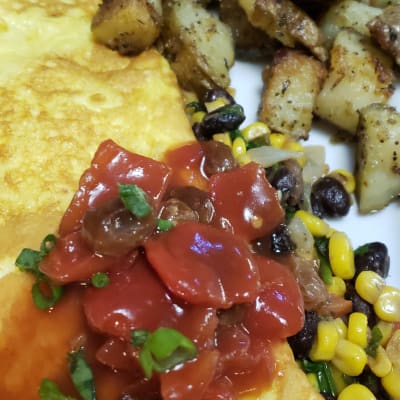 Mediterranean Influences Add Healthy Interest at Breakfast
Mediterranean Influences Healthy & Delicious
This Buttery Cheese Omelette is as beautiful as it is delicious and good for you, served here on a bed of Succotash and topped with Balsamic Tomato Coulis. Egg whites only also available.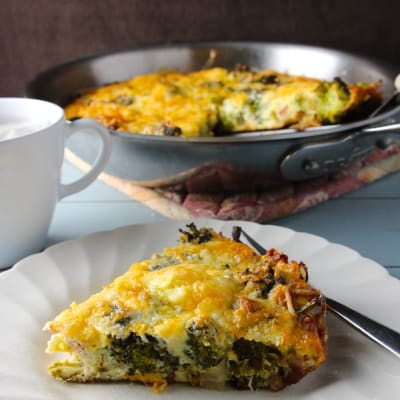 More Delicious Dishes from Montgomery Inn BnB
Fritatas, Quiches, Egg Casseroles
Buttery Fritatas bursting with herbs and fresh from the oven goodness make waking up enjoyable.. Usually served with a generous helping of Pamela's potatoes.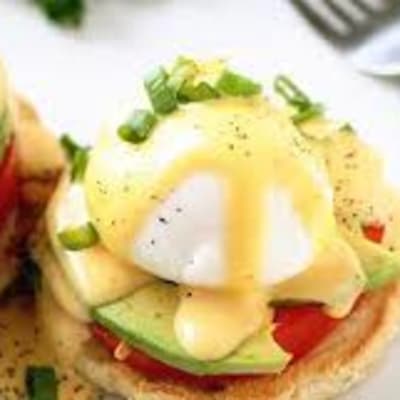 Egg Dishes Always Evolving...
Many Fritatas, Quiches & Scrambles
Chef Pam loves to entice the palate. Asparagus, Mushrooms, Roasted Red Pepper, Artichoke hearts, Sauteed Onions, Scallions, Zucchini and so much more may find their way into a delicious version of eggs, always with first rate ingredients--creamy fresh butter, olive oil, heavy cream. Served with Pamela's Potatoes, a breakfast meat like Maple Sausage Links, Sage Sausage Patties, Crispy Bacon, Black Forest Ham, and the bakery item(s) of the day, it's a platter of goodness sure to please.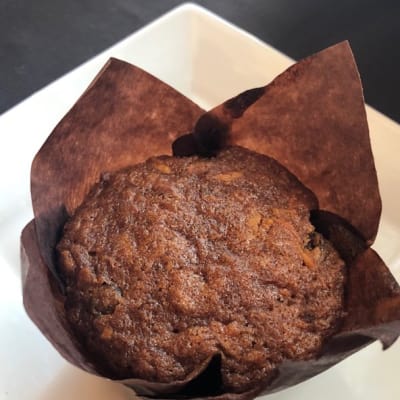 Our Own Bakery Right Here at the Inn
Scones, Muffins, Biscuits, Gluten Free, We Make it Here
We're really well known for our Gluten Free Glorious Morning Muffins, among the many offerings in our repertoire. Shredded Carrots, Raisins, Crushed Pineapple, Coconut, Walnuts all go into our luscious Gluten Free cinnamony batter for a moist and addicting muffin everyone enjoys.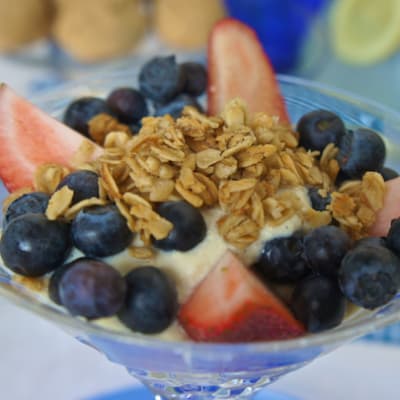 First or Last, Our Yogurt Parfait is Yummy!
Vanilla Yogurt with Berries du Jour & Our Own Granola
First we slow bake our granola. Then we layer creamy rich vanilla yogurt with berries of the day-fresh blackberries, Wymans Blueberries are both favorites, then top with our home-made granola (Yes our granola is available for purchase to take home) and a dollop of whipped cream. Often served as a precursor to our hot entree, a lighter breakfast eater may find that this with our muffins hit the spot perfectly. Some of our guests ssave our parfait until last as a Breakfast Desert!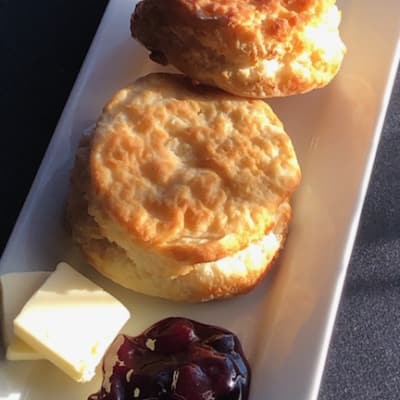 It's Wouldn't Be Southern If...
Biscuits and Grits
If you are a grit fan, just let us know at check in and we will prepare them just for you! Sometimes we serve biscuits but not always so if this is your pleasure, again just ask, we are happy to please!